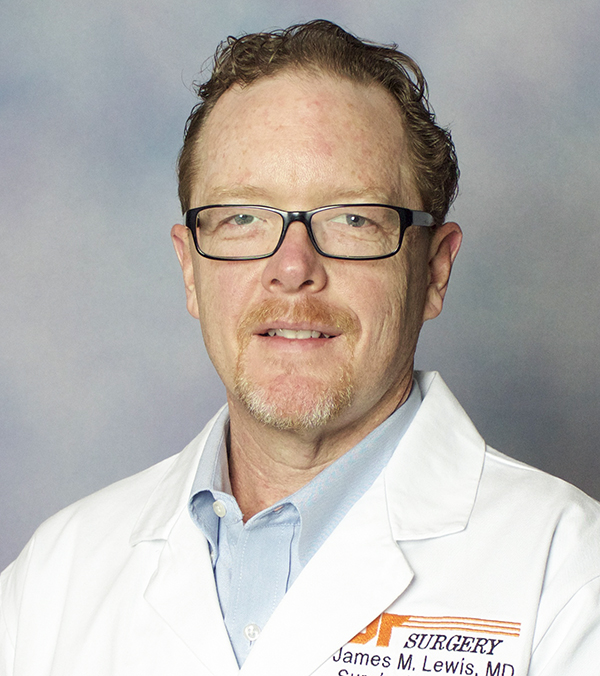 James M. Lewis, MD
Surgical Oncology
About
Academic Appointment:
Professor and Associate Program Director, General Surgery Department of Surgery, Division of Surgical Oncology
Gender
Male
Contact Info
Primary Location
University Surgical Oncology
1926 Alcoa Highway, Suite F-330
Knoxville, TN 37920
Phone: (865) 305-9218
Fax: (865) 305-8262
Background
Clinical Interests:
Cutaneous malignancy, general oncologic surgery, outreach/education, screening
Research Interests:
Cutaneous malignancy, outreach/education
Education & Training
Schools:
University of Florida College of Medicine
Internships:
Louisiana State University School of Medicine
Residencies:
Louisiana State University School of Medicine
Fellowships:
University of South Florida H. Lee Moffitt Cancer Center
Certifications:
American Board of Surgery
Publications
Papers:
Evaluating and exploring variations in surgical resident emotional intelligence and burnout,

Beierle SP, Kirkpatrick BA, Heidel RE, Russ A, Ramshaw B, McCallum RS, Lewis JM,

Journal of Surgical Education,

2019 Jan 15. [Epub ahead of print].

Radiation-induced sarcoma following prolonged coronary stent placement,

Vick EJ, Clark CT, Lewis JM,

Case Reports in Surgery,

2018 Aug 5;2018:2903801. eCollection 2018.

Comparison of outcomes between open versus videoscopic superficial inguinal lymph node dissection,

Landry M, Lewis J,

The American Surgeon,

2017 Aug 1;83(8):332-334.

oft tissue malignancy due to long-standing foreign bodies after shotgun blast,

Blue CT, Pospiech EA, Lewis JM, Nodit L,

The American Surgeon,

2017 Jul 1;83(7):261-263.

Completion dissection or observation for sentinel-node metastasis in melanoma,

Faries MB, Thompson JF, Cochran AJ, Andtbacka RH, Mozzillo N, Zager JS, Jahkola T, Bowles TL, Testori A, Beitsch PD, Hoekstra HJ, Moncrieff M, Ingvar C, Wouters MWJM, Sabel MS, Levine EA, Agnese D, Henderson M, Dummer R, Rossi CR, Neves RI, Trocha SD,

The New England Journal of Medicine,

2017 Jun 8;376(23):2211-2222.

A novel technique using intraoperative fluoroscopy as a tool to achieve negative margins for wire-guided partial mastectomies,

Beierle SP, Heidel E, Lewis J, Stewart E, McLoughlin J,

The American Surgeon,

2016 Sep;82(9):236-7.