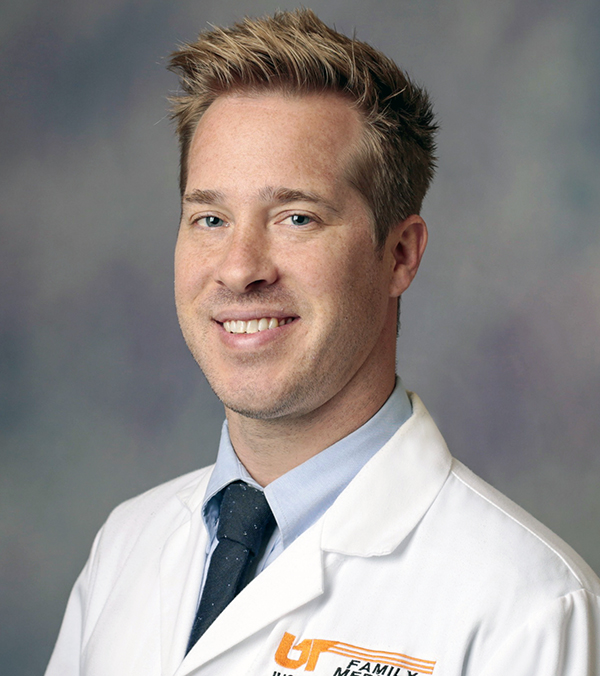 Justin M. Jenkins, DO, MBA
Family Medicine
Contact Info
Primary Location
Rocky Hill Family Physicians
7503 S. Northshore Drive
Knoxville, TN 37919
Phone: (865) 531-1300
Fax: (865) 470-9190
Honors, Societies & Professional Organizations
Societies:
Tennessee Academy of Family Physicians
American Academy of Family Physicians
Society of Teachers of Family Medicine
American Osteopathic Association
Background
Clinical Interests:
Dr. Justin Jenkins was born in Knoxville, Tennessee, and often jokes that he just hasn't had a good reason to leave East Tennessee. His dedication to the region stems from his appreciation of the vibrant community and beautiful landscapes. Following graduation from Maryville College, he attended medical school in Harrogate, Tennessee, at the LMU DeBusk College of Osteopathic Medicine. He then completed his Family Medicine residency at the University of Tennessee Graduate School of Medicine at The University of Tennessee Medical Center in Knoxville, where he served as chief resident. His appreciation for teaching led him to join the faculty at the UT Graduate School of Medicine where he taught Family Medicine residents for two years as an assistant professor. "When I reflect on what I love most about being a physician, it is truly the relationships that I form with my patients that make it so fun," he says. Because of this, Dr. Jenkins has decided to focus on outpatient primary care where his energies can be directed at caring for the people of his community. His professional interests are broad and include preventative healthcare, osteopathic manipulation, and management of chronic conditions such as heart disease, hypertension, and diabetes. In his free time, he enjoys spending time with his wife and daughter, being on the lake and playing guitar. As a citizen of the Rocky Hill community, he is excited and grateful for the opportunity to help his community be as healthy as it can be.
Education & Training
Schools:
LMU DeBusk College of Osteopathic Medicine
Residencies:
University of Tennessee Medical Center
Certifications:
American Board of Family Medicine