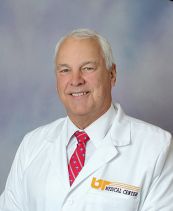 Peter Philip Mckeown, MB, BS, BA, MBA
Cardiothoracic Surgery
Contact Info
Primary Location
University Heart Surgeons
1940 Alcoa Hwy, Ste 260
Knoxville, TN 37920
Phone: (865) 305-6955
Fax: (865) 305-8238
Honors, Societies & Professional Organizations
Societies:
American Association for the Advancement of Science
Academy of Surgical Research
American Board of Medical Management
American College of Physician Executives
American Medical Association
American College of Chest Physicians
American College of Surgeons
Association of Veterans Administration Surgeons
Florida Medical Association
Florida Society of Thoracic & Cardiovascular Surgeons
General Thoracic Surgical Club
Harkins Surgical Society
Hillsborough County Medical Association
International College of Surgeons
International Society for Heart Transplantation
International Society of Intraoperative Cardiovascular Ultrasound
Le Club Mitrale
Royal College of Physicians and Surgeons of Canada
Royal Australasian College of Surgeons
Royal Society of Medicine
Seattle Surgical Society
Society of Thoracic Surgeons
The New Century Society (The Thoracic Surgery Foundation for Research and Education)
West Coast Academy of Cardiology
Education & Training
Schools:
02/1969 – 12/1975 M.B. (Bachelor of Medicine) University of Queensland, Brisbane, Australia B.S. (Bachelor of Surgery) University of Queensland, Brisbane, Australia
01/1975 – 01/1976 B.A. (Bachelor of Arts) University of Queensland, Brisbane, Australia Psychology Postgraduate Studies
08/1996-06/1996 MBA (Masters of Business Administration, University of South Florida) 08-1998-06/1998 MPA (Masters in Public Administration ) Kennedy School of Government, Harvard University.Healthcare Policy, Academic Leadership
08/1999- 06/1999 MPH (Masters in Public Health) Clinical Effectiveness Program, Harvard School of Public Health, Harvard University.
Fellowships:
01/1983-06/1983 F.R.C.S.C. (Fellow of the Royal College of Physicians and Surgeons of Canada)
01/1986-06/1986 F.R.A.C.S. (Fellow of the Royal Australasian College of Surgeons)
01/1991-06/1991 F.A.C.S (Fellow of the American College of Surgeons)
01/2011-06/2011 FACHE Fellow American College Healthcare Executives
Certifications:
American Board of Surgery | AB Thoracic Surgery - Thoracic and Cardiac Surgery