May is National Stroke Awareness Month
May 2020
May is National Stroke Awareness Month
What is Stroke?
Nearly 800,000 people in the United States experience stroke each year. Stroke is the leading cause of adult disability and a leading cause of death.  Every 40 seconds someone's life is changed by stroke.
A stroke happens when blood flow to the brain is interrupted.  This interruption can be caused by a blockage or rupture of a blood vessel that carries oxygen and nutrients to the brain. If the brain does not get enough oxygen or nutrients, brain cells will die.  When brain cells in a specific area die, the part of the body that area controls doesn't work as it should.  This is why stroke causes disability.
Stroke is always a medical emergency.  Rapid treatment may help to decrease the long-term effects of stroke and in some cases, prevent death.   If you recognize the warning signs of stroke, it's important that you activate Emergency Medical Services (EMS) immediately by dialing 9-1-1.
Remember to BE FAST When Recognizing Stroke Symptoms
Remember (B)alance, (E)yes, (F)ace drooping, (A)rm weakness, or (S)peech difficulty, it's (T)ime to call 911.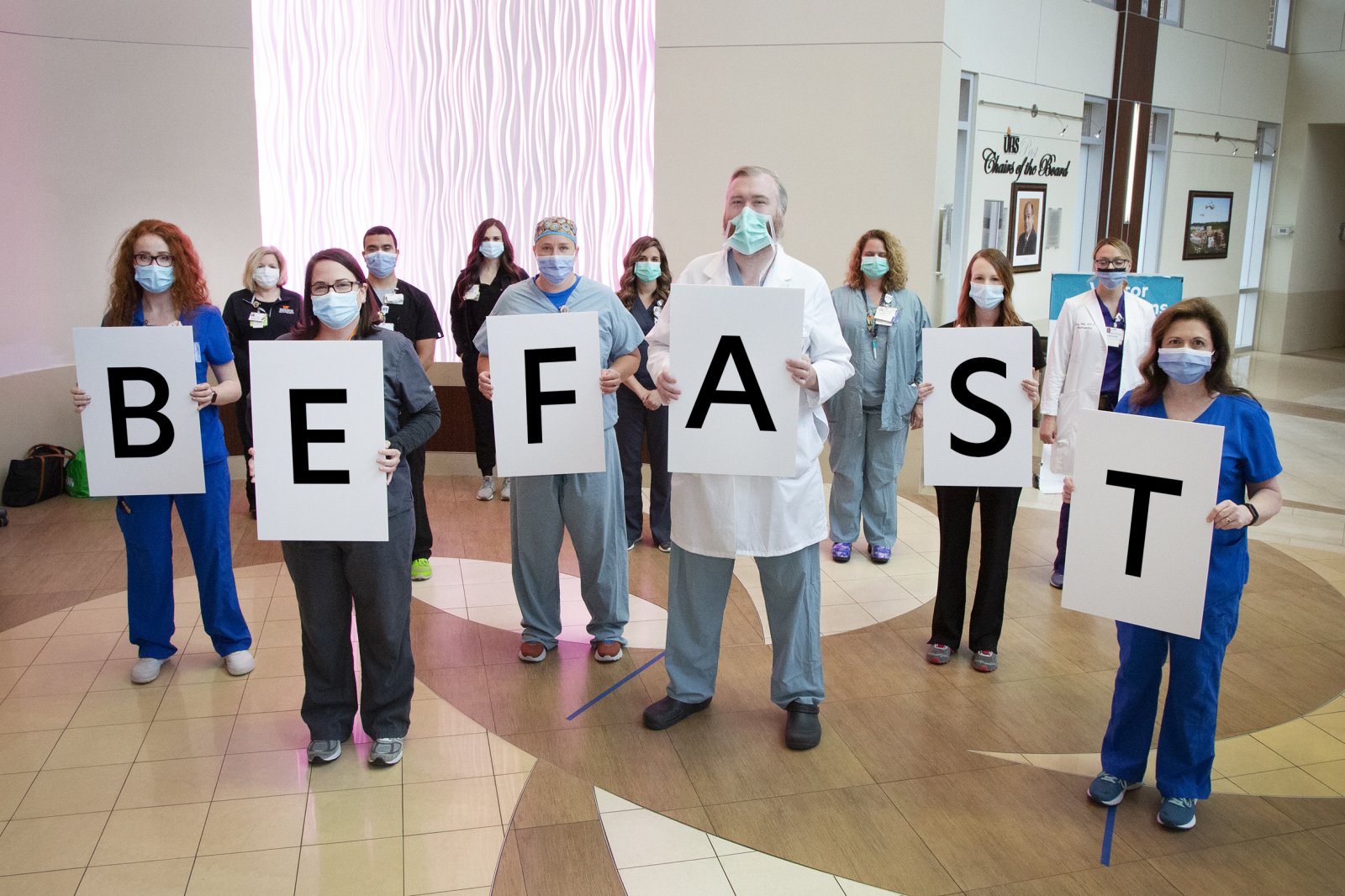 BE FAST was developed by Intermountain Healthcare, as an adaptation of the FAST model implemented by the American Stroke Association. Reproduced with permission from Intermountain Healthcare. © 2011 Intermountain Healthcare. All rights reserved.
Prevention
Stroke doesn't have to happen.  Up to 80% of stroke is preventable.  Take some time to talk with your healthcare provider about your risk for stroke and make a plan to get started reducing your risk.  You can make the difference.  Here are some strategies to help you get started.
Manage your blood pressure.

High blood pressure is one of the most common risk factors for stroke.  Keeping a healthy blood pressure decreases stress on your heart, blood vessels, and kidneys.

Control your cholesterol.

High cholesterol can lead to stroke by damaging arteries as result of plaque build up.  Keeping your cholesterol at healthy levels reduces the risk of plaque building up in arteries.

Decrease blood sugar.

Unhealthy levels of blood sugar can lead to damage of the blood vessels, heart, kidneys, eyes and nerves.

Move more.

Daily physical activity helps to ensure a healthier you.

Enjoy a brain and heart healthy diet by increasing intake of healthy foods such as fresh fruits, vegetables, and whole grains.
Lose weight.

Losing weight helps to decrease the work load of your heart, lungs, blood vessels and bones.

Stop smoking.

Smokers have a higher risk of stroke and heart attack.  If you smoke, one of the best things you can do to ensure a longer, healthier life is to quit.
The Comprehensive Stroke Center at UT Medical Center
The University of Tennessee Medical Center's Brain and Spine Institute features a Stroke Center dedicated to reducing the long-term impact via a stroke unit, which offers rehabilitation for stroke victims and advanced technology. The center offers the latest imaging technology in order to provide minimally invasive treatment.
In addition, the Stroke Center provides patients with rapid medical attention, a stroke coordinator and a team with stroke expertise as well as early identification of stroke rehabilitation needs. The center also focuses on public education including stroke prevention and the detection of early warning signs of stroke.