Cardiac Catheterization Lab
• Main Campus
Address
1940 Alcoa Highway
Knoxville, TN 37920
Phone
865-544-2800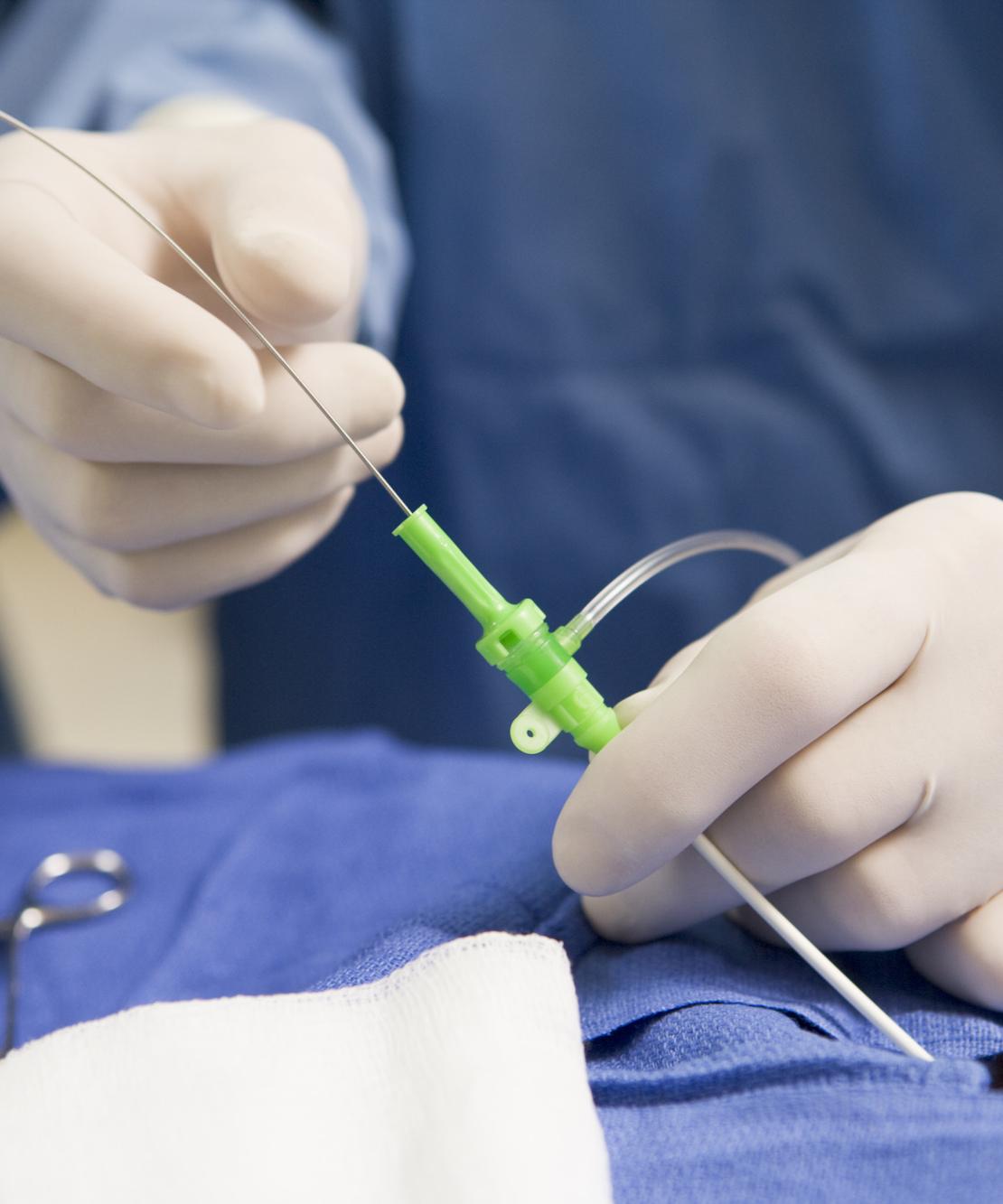 Our Services
The Cardiac Catheterization Laboratory is a multidisciplinary department available 24/7 and staffed with board-certified cardiologists, registered nurses, radiology technologists and cardiovascular technologists. All clinical staff are ACLS certified and many have additional cardiovascular certifications. The lab provides comprehensive diagnostic and therapeutic procedures for patients with coronary artery disease, pulmonary hypertension, valvular heart disease, atrial septal defects and peripheral vascular disease. As an academic medical center, UT Medical Center strives to provide the latest technology and interventional procedures to the 21 counties surrounding the Knoxville area. Our expertise in mitral and aortic valvuloplasties makes us a regional referral site for patients meeting the criteria for percutaneous valvuloplasty.
Procedures Performed
Diagnostic Adult Cardiac Catheterization
Percutaneous Coronary Interventions
Rotational Atherectomy
Rheolytic Thrombectomy
Alcohol Septal Ablation for Idiopathic Hypertrophic Cardiomyopathy
Mitral Valvuloplasty
Transesophageal Echocardiography (TEE)
Laser Atherectomy
Closure of Atrial septal defect (ASD) and Patent Foramen of Ovale (PFO) repair
Transcatheter Aortic Valve Replacement (TAVR)
Intravascular Ultrasound
Intracardiac Ultrasound
MitraClip
Watchman
Cardioversion
Tilt Table Studies
Fractional Flow Reserve (FFR)
Pericardiocentesis
Segment Elevation Myocardial Infarction (STEMI) is caused by the sudden occlusion of a major coronary artery. For twenty five years, clinical research has focused on ways to quickly open these blocked arteries which reduces the chance of dying from a STEMI. In order to provide emergent STEMI care, a medical center must have 24/7 interventional cardiology facilities and personnel as well as cardiac surgery backup. For the Tennesseans living within 30 minutes of one of the 43 medical centers capable of providing this care, angioplasty within 90 minutes should be achieved most of the time. Eighty-nine percent of patients presenting to UT Medical Center in 2009 achieved the 90 minute door-to-balloon benchmark, compared to a state average of 82% and a national average of 79%.
Controversy still surrounds the best treatment of STEMI patients who do not have easy access to medical centers capable of providing coronary angioplasty. Data suggests that every ten minute delay in treatment can result in a one percent higher chance of dying from an acute myocardial infarction. Across the country, programs are underway to improve the access of these patients to interventional care by creating regional STEMI centers. In Tennessee, the Cardiac System of Care Task Force is identifying factors necessary to develop a statewide network of STEMI systems of care. The University of Tennessee Medical Center is part of this statewide effort and a member of the task force. We are also registered with Mission Lifeline, an initiative of the American Heart Association (AHA) to focus on the continuum of care for STEMI patients from entry into the system, through the system, and back to local community and provider.
The medical center's Heart Lung Vascular Institute has been functioning as a Regional STEMI Center for over a decade. The medical center's system of care for STEMI patients in rural East Tennessee began in 1999 with a "rapid transport protocol," allowing patients with STEMI's in rural emergency departments to be transferred directly to The UT Medical Center. The LIFESTAR dispatch center became the communication hub for coordinating STEMI care by calling in the catheterization lab team at the moment a STEMI patient was identified further reducing door-to-balloon time.
Electrophysiology is one of the fastest growing services at the Heart Lung Vascular Institute. Electrophysiologic studies are performed for the diagnosis and treatment of abnormal heart rhythms. The lab is staffed with board certified Electophysiologists, registered nurses, radiologic technologists and cardiovascular technologists, all specially trained in the techniques used in the evaluation and treatment of rhythm disorders.
Treatment of abnormal heart rhythms may require medication, an ablation procedure or an implantable device (pacemaker or cardiac defibrillator). Some patients with congestive heart failure may be treated using a bi-ventricular implantable device (called cardiac resynchronization therapy or CRT). Many of the devices implanted today enable physicians to monitor the patient's device wirelessly, preventing frequent visits to the physician's office. These newer devices can alert the physician when there is a problem with the device or when the patient's heart condition worsens.
Cardiac ablation procedures are used to treat patients with a variety of abnormal rhythms such as supraventricular tachycardia, ventricular tachycardia, paroxysmal atrial arrhythmia's, atrial flutter and atrial fibrillation (just to name a few). These catheter-based procedures use up-to-date technology to locate and eliminate the source(s) of the abnormal rhythms. They are effective in treating many abnormal rhythms and typically do not require an overnight stay.
In response to a growing population of patients with atrial fibrillation, UT Medical Center's Heart Lung Vascular Institute launched the region's first Atrial Fibrillation Center in October 2008. Atrial fibrillation is a serious abnormal rhythm that carries a risk of stroke.
Patients who are interested in an evaluation may request a physician referral or contact our Atrial Fibrillation Center Coordinator at 865-305-6016 to see if they meet the criteria for self-referral.
Electrophysiology Lab Technologies and Procedures
Diagnostic Electrophysiology Studies
Implantable devices with and without wireless home monitoring capability

Implantable Cardiac Defibrillator (already a link to explanation- ICD)
Cardiac Resynchronization Therapy
Pacemaker (already a link to explanation)

Device Lead Extraction (laser)
3D Mapping Technology
Intracardiac echocardiography
Radio-frequency Ablation

Atrial Fibrillation (pulmonary vein isolation)
Other arrhythmia's

Implantable Loop Recorders
Electrophysiology study
Cardiac ablation
The cardiac catheterization and electrophysiology laboratories participate in the following American College of Cardiology National Cardiovascular Data Registry (NCDR) programs.
The Cardiovascular Recovery Unit is a 14-bed outpatient unit that provides pre- and post-procedure care to patients seen in the Cardiac Catheterization, Electrophysiology or Interventional Radiology labs. The unit is staffed by registered nurses and certified nursing assistants.
Prepare for Your Visit
Address
1940 Alcoa Highway
Knoxville, TN 37920
Where we are
Building E, Suite 310
parking
Garage 4, Garage G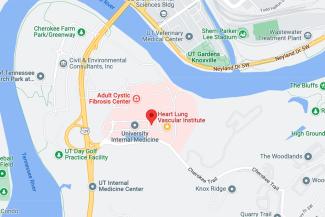 About Us
The Cardiac Catheterization Laboratory includes the Cardiac catheterization Labs (adult and pediatric labs), Electrophysiology Lab and Cardiovascular Recovery Unit. The department performs more than 6,700 inpatient and outpatient procedures annually. The Cardiac Catheterization Laboratory at the University of Tennessee Medical Center is the only catheterization laboratory in Knoxville serving both the adult and pediatric populations.