Volunteer Services
• Main Campus
Address
1924 Alcoa Hwy
Box 78
Knoxville, TN 37920
Phone
865-305-9515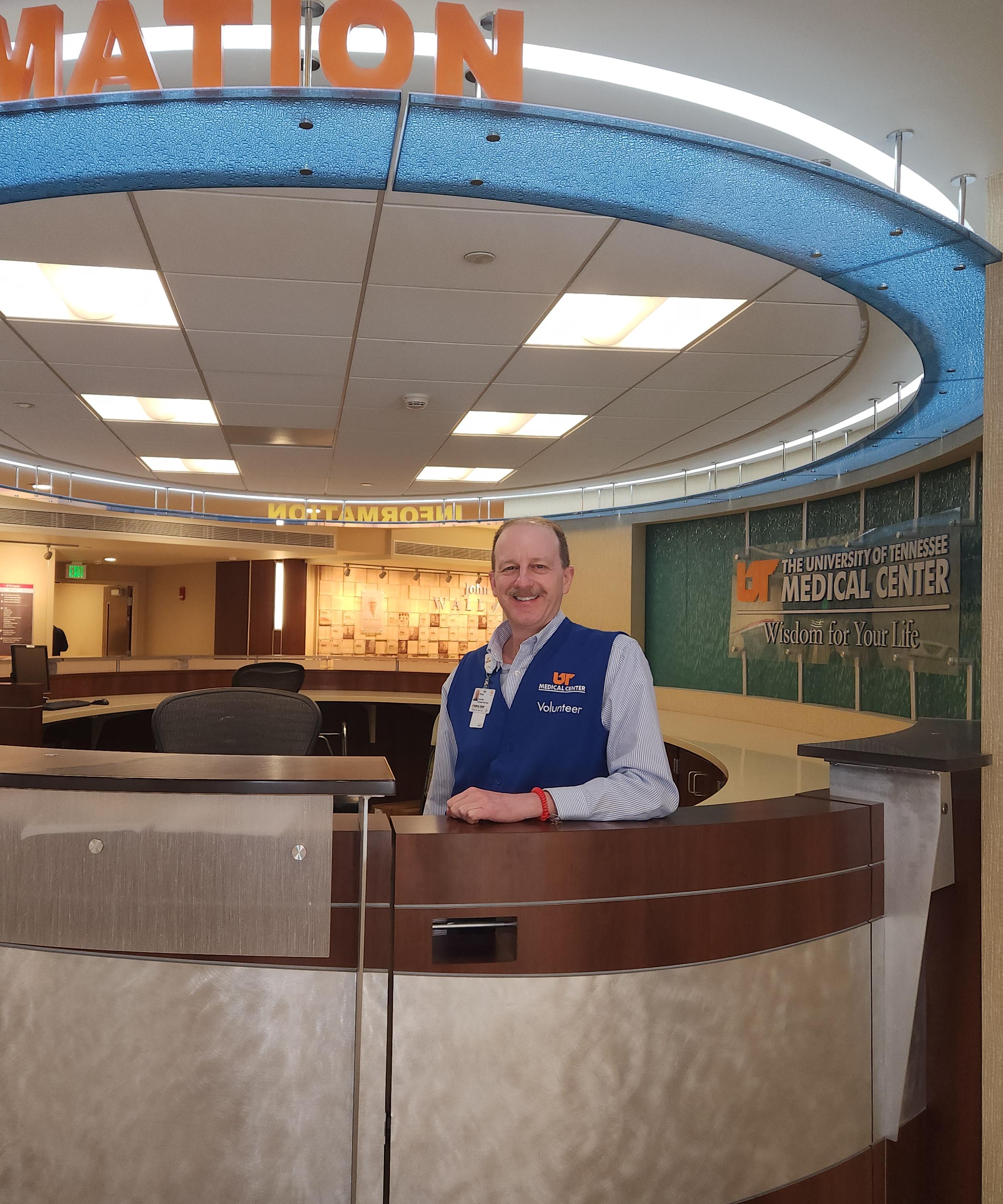 Our Services
Volunteer Services coordinates the activities of three main groups of volunteers: Adult Volunteers, College Students, and Teen Volunteers. And lifting the spirits of our patients and families is what the volunteer program is all about.
To learn more about becoming a member of our volunteer team, read about our requirements and the benefits gained by volunteering.
Now taking applications for:
Lobby and wayfinding volunteers
Surgery lounge attendants
Gift shop volunteers
Active volunteers who love to walk (you could log one mile or more a shift)
Complete the online application for your age group: 
A scheduled health assessment will be organized by Volunteer Services.
Upon completion of your health assessment, you must complete the online mandatory hospital orientation.
On your first day of service, you will receive a uniform and schedule.
In 2022, 150 people volunteered across 38 departments throughout the medical center. They logged more than 21,000 hours, saving the medical center more than $519,000 in labor costs.
Why do our volunteers keep coming back? Because they are passionate about making a difference at the medical center and in their community. And they reap great benefits from volunteering, in happier and longer lives, and even in medical center perks.
1962: The first volunteers started at the medical center
1972: The Volunteer Auxiliary opened our hospital Gift Shop
750,000+: The number of hours volunteers have donated since 1962
14-95: The range of ages of medical center volunteers
The first volunteers began working at the medical center in 1962. And 10 years later, the Volunteer Auxiliary opened the hospital's Gift Shoppe. Since then, the Auxiliary has provided more than 750,000 hours and $2 million to the Medical Center.
Proceeds from the Gift Shop, along with other volunteer fund-raising efforts, provide equipment and financial assistance to various departments. Plus, all proceeds from vendor events are reinvested into the medical center. Here are some examples of items and assistance that volunteers have helped provide:
Mobile mammography equipment
East Tennessee's first dedicated hospital K-9 program
Expansion of the NICU to provide private rooms for families to stay with at-risk newborns
Wheelchairs for patient transportation
Special blood storage refrigerator for Lifestar to help with immediate lift off and response
Rocking chairs for new mothers and surgical patients
Digital cameras used in the intensive care nursery for family photo albums
Blood pressure machines for patient care
Blanket warmers for the cancer patients undergoing treatment
Renovation of the Health Information Center and Preston Medical Library
Re-certifications for the nursing staff for the Magnet Program
Proceeds to the Pastoral Care Program for patients with special needs
Current Volunteers
Already a volunteer? Access your Volgistics account to sign up for shifts or make changes to your schedule. Log into Volgistics:
Volunteer Training
Our volunteers play a vital role at UT Medical Center. To keep our accreditation, each volunteer must complete annual training. This includes reading through training Power Point presentations and taking a short quiz.
"Volunesia (noun): That moment when you forget your volunteering to help change lives, because it's changing yours" — Anonymous
Prepare for Your Visit
Address
1924 Alcoa Hwy
Knoxville, TN 37920
Where we are
Main hospital building behind the Gift Shop
parking
Garage G, Garage 4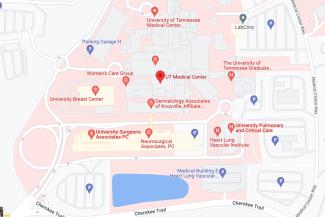 About Us
For nearly 60 years, volunteers have been a vital part of The University of Tennessee Medical Center. Whether you're a teen, college student or adult looking to share your time and talent, there's a volunteer opportunity for you.
Navigate Our Site