Our Services
We use a variety of tools to assist our physicians to diagnose, treat and monitor heart disease.
Our team of physicians provide medical, interventional and surgical care that includes treatment for chronic disease management, acute coronary syndrome, percutaneous coronary interventions (PCI) and coronary bypass graft surgery (CABG).
Our facility supports pre-hospital and in-hospital services and protocols for immediate treatment of patients experiencing heart attack symptoms. Visit Cardiovascular Wellness to learn more.
Our team of physicians provide medical, interventional and surgical management of arrhythmias including; electrophysiological studies, electrophysiology mapping, ablations, laser lead extractions, device implantation, device interrogation, and outpatient device management.
Our specialists care for advanced and/or complex heart failure patients including medical management, cardiac rhythm devices and outpatient services.
The Cardiovascular and Pulmonary Rehabilitation program maintains the highest standards of care in the treatment of cardiovascular and pulmonary patients. Our program is designed to help you in returning to optimal health. Whatever your current level of wellness and fitness, the program will be tailored to your specific needs.
Prepare for Your Visit
Address
1940 Alcoa Highway
Knoxville, TN 37920
Where we are
Building E, Suite 110
parking
Garage 4, Garage G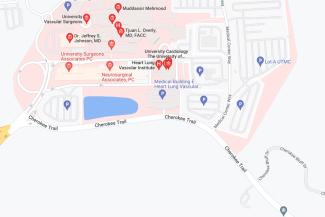 About Us
The Heart Center (Cardiology and Cardiothoracic Surgery) is an integral part of the Heart Lung Vascular Institute that provides medical, interventional and surgical care for cardiac conditions in Knoxville and the surrounding counties.
Care delivery is provided through an interdisciplinary approach that is patient and family centered.  Delivery of services requires collaboration with patients, physicians, clinical teams, administrators and key partners. Care, treatment and services are provided in the emergent, inpatient and outpatient settings.  The Heart Center provides care for the following conditions: