Carmelo V. Venero, MD
Cardiologist, Interventional Cardiologist, Structural Cardiologist
Love God, my family, and my work.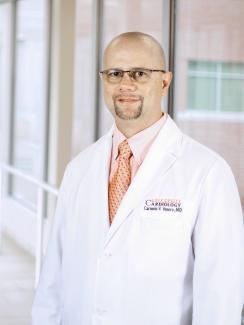 About Me
Gender: Male
Languages Spoken:
English, Spanish
Dr. Venero and his wife Sandra have three children, each of whom are very active in sports and the community. Outside of the office he enjoys spending time with his family and supporting his children through their school and athletic efforts. He is also quite a chef and enjoys grilling for his family and playing a Venezuelan four-string guitar called an el cuatro.
Clinical Focus:
Complex coronary interventions, valvular heart disease – valvuloplasties, MitraClip, PFO, ASD closure, Left atrial appendage closure (Watchman device implantation), stress test, echocardiography
Specialties:
Cardiology, Interventional Cardiology
Education & Credentials
Schools
University of Carabobo School of Medicine, Valencia, Venezuela, 1995
Internships
Internal Medicine, Yale University School of Medicine, New Haven, Connecticut, 1996
Residencies
Internal Medicine, Yale University School of Medicine, New Haven, Connecticut, 2000
Fellowships
Preventive and Nuclear Cardiology, Hartford Hospital, Hartford, Connecticut, 2008 Cardiovascular Disease, University of Tennessee Medical Center, Knoxville, TN, 2011 Interventional Cardiology, University of Alabama at Birmingham, Birmingham, Alabama, 2012 Advanced Structural Cardiology with Dr. Mustafa Ahmed, Birmingham, Alabama
Board Certifications
American Board of Internal Medicine (Internal Medicine, Cardiovascular Disease, Interventional Cardiology) American Board of Clinical Lipidology American Board of Nuclear Cardiology National Board of Echocardiography
Organizations & Societies
American Society of Echocardiography, Society for Cardiac Angiography and Interventions, American Society of Nuclear Cardiology, American College of Cardiology, American College of Physician American Medical Association
Caring for my patients is my honor, and for this reason, I will always do my best.
— Carmelo V. Venero
Where I See Patients
1940 Alcoa HighwayBuilding E, Suite 310Knoxville, TN 37920
Phone: 865-544-2800
Fax: 865-544-6812
Directions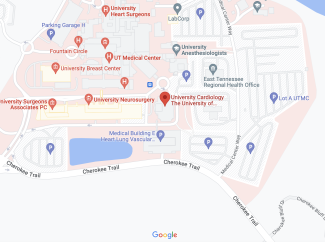 Visiting our main campus? Use the UTMC Way app to get around.
My Ratings & Reviews
overall experience
90 ratings
Provider showed concern

4.8

Provider explained things clearly

4.7

Provider included you in decisions

4.8

Likelihood of recommending this provider

4.8