Office Of Clinical Trials
• Main Campus
Address
1926 Alcoa Highway
Knoxville, TN 37920
Phone
865-305-4893
Our Services
The OCT follows specific objectives as we perform our research. Our goals are to:
Create one unified, centralized operation for performing non-governmental trials
Ensure that adequate qualified leadership and staff are available and trained
Establish standards as specified by good laboratory practice, good clinical practice, and the rules and regulations of the Food and Drug Administration
Ensure compliance with these standards through both internal and external audits and rigid quality control practices
Attract trials that meet the market's needs and match the needs of our physicians and patients
Fulfill our fiduciary responsibility by being a financially self-sustaining operation at UT Medical Center
The OCT was established in 2014, primarily to perform oncology trials. But we are now growing and branching out into other areas of the hospital, including:
We also anticipate studies with:
To see the entire list of clinical trials being conducted by our office, visit the Clinical Trials Directory.
Prepare for Your Visit
Address
1926 Alcoa Highway
Knoxville, TN 37920
Where we are
Building F, Suite 344
parking
Building F lot and Garage H, Garage G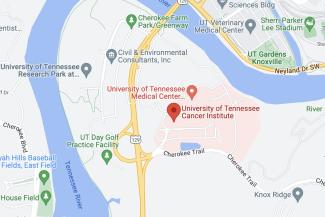 About Us
Our Mission
The OCT's mission is to support the medical center's primary mission of healing, education and discovery through the successful execution of privately sponsored clinical trials. To do this, we work with a variety of research partners, performing the most advanced treatment methods using cutting-edge technology.
Some of our research partners include:
AMGEN
Astra Zeneca
Bristol Myers Squibb
Genentech
Lilly
Merck
NCI — National Cancer Institute
Pfizer
Find a Trial
Learn More About Clinical Trials