University Cancer Specialists - Sevierville
• Sevierville
Address
1130 MiddleCreek Road
Suite 160
Sevierville, TN 37862
Phone
865-428-6505
Our Services
At University Cancer Specialists, we treat each person as unique, offering a multidisciplinary approach to cancer care. This approach allows us to treat you with the greatest attention. Our team of specialists reviews each case, exchanging information and expertise to develop the best course of treatment. We also offer:
Evaluation and management of all types of malignancies
Evaluation and management of benign hematologic diseases
Oncology infusion services
Check out our information for new and current patients. Thank you for choosing University Cancer Specialists for your care.
Prepare for Your Visit
Address
1130 MiddleCreek Road
Sevierville, TN 37862
Where we are
1130 MiddleCreek Road, Suite 160
parking
Free parking on site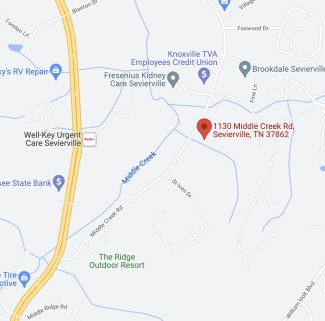 About Us
We know what it means to fight cancer. It takes courage, strength, a positive attitude and the support of family and friends. At University Cancer Specialists, we provide the best care possible to each patient through:
Our dedicated team of medical oncologists
State-of-the-art technology
One comprehensive location
Multidisciplinary approach